Custom Package Design & Die Cutting Services in Detroit, MI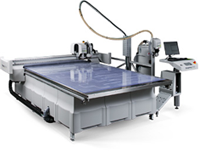 Michigan Paper Die, Inc. is the premier finishing and converting house in the Metro Detroit area. With over 40 years of industry experience, we've built a strong reputation for delivering high quality and cost-effective pieces. When you choose us for your packaging design or fulfillment, we'll use our expertise to make sure your piece stands our from the crowd. Plus, our turnaround times are second to none!
Our packaging design and fulfillment capabilities include:
Custom Package Designs
Detailed Mockups
Die Cutting
Embossing
Hand Bindery
Steel Rule Die Construction
Stitching
Shrink Wrapping
Folding
Foil Stamping
High-Speed In-Line Gluing
High-Speed Fugitive Gluing
Tipping
Drilling
And More!
For the Love of Paper
Our love of paper always leads us to try new and innovative things and we believe that our involvement during the initial stages of a project can be most rewarding. Our experience in design, along with the capability to construct your pieces to efficiently run through production, will save you both time and money. We've built our company on providing excellent customer service and superior craftsmanship in every job we perform. We encourage you to view our portfolio and let our work speak for itself!